Lex Brown
Immortal Duck

Jun 9–Jul 9, 2017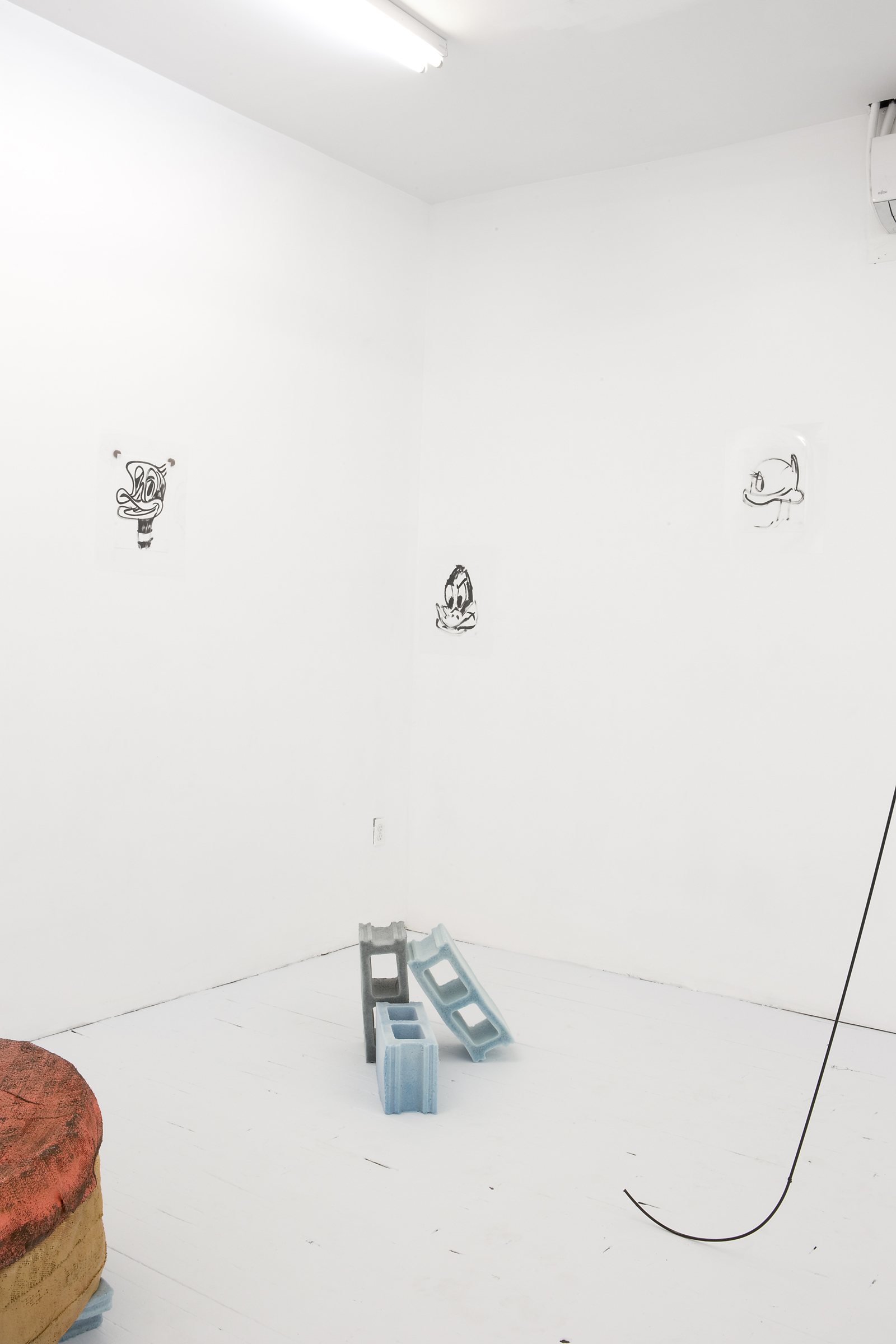 Deli Gallery is pleased to announce "Immortal Duck", a show of new drawings, sculptures, and performance by Lex Brown. The exhibition is the artist's first solo show and is a reflection on cycles of defeat and triumph, fun, and the cartoon nature of reality. The exhibition's title is inspired by the Looney Tunes "Hunting Trilogy," in which Daffy Duck is shot by Elmer Fudd 18 times, yet remains as persistent and exuberant as ever.


Burger, bread, flesh,
shaggy and stringy days gone –
finally put my backpack down for 2 seconds

It had been getting big
like pregnant even,
with unforgiven lovers lonely nights and coffee shits:the emotion,
cold sweats,
unactualized anger and good intentions,
claims staked to things I thought
ought – general plans. what's good?

Was so sad, deeply sad, for some millions [sic] of a second
even through smelling flowers:
seeing flowers through smelling them:
smelling right through to the clearly beautiful point where
smelling flowers is just about
tandem breathing.

Candy fresh payola
burger, bread, flesh,
ouroboros
Brioche begs the question,
Damn girl is you hongry?
Or, perchance, girl yous already fulled
Up
gasoline breathing, backpackless for time 1
Damn, perchance
Girl got the itis*
*Lol, still ours - even if borrowed, bought, or stolen,
the words still come from the kitchens, back of the head
Ma medulla, that's how she always gets along in this world,
No difference.
She's like that duck, quack
here forever
and always fine,
So I don't worry about that shit getting taken by Fudd, Bugs,
Bud, Chuck,
Chad, Brad, or any other brat wabbit.
The bullet and the hole are the same thing –
the buns and burger and a little bit of spit,
sipping flowers.

You know that part of you that keeps getting shot but is
100% indefatigable
Laffy taffy
Singer of s-s-s-s-songs?